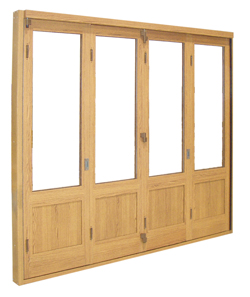 Our Decoral® wood grain finishes can be applied on Windows, Doors, Storefront and Trims to make each piece a unique design element. Shown right is our Pacer Series aluminum folding door in a light 9052 Oak finish. As you can see, the addition of the wood grain finishes to aluminum profiles and panels completely changes the look of aluminum. When combined with the Pacer door you've got an instant sidewalk cafe with an old world feel.
Durability
Decoral® utilizes a revolutionary process developed in Europe which has the durability of traditional powder coating. It is highly resistant to natural weathering like sun, wind, humidity and moisture as well as heat, acids, salts and detergents.
Ease of Maintenance
Our finishes are easily cleaned with a mild detergent and warm water and do not require the maintenance that wood doors need.
Environmentally Friendly
We can give you the look you want without cutting down a single tree. All products used in the finish are totally recyclable, allowing you to introduce your clients to a terrific "green" product.
Other custom finishes are available upon request.
Custom Painted Finishes
Anodized Finishes
The color samples below are not completely accurate. Please contact us for more information. Final selection of colors should be made from physical samples.